Ford
Ford cars and trucks for sale. From hot rod '32 3-Windows, to the Model T, to Mustangs, to F-100s and coupes, OldRide classified has the Ford you're looking for. Learn more about the history of Ford here:
932 LISTINGS - Ford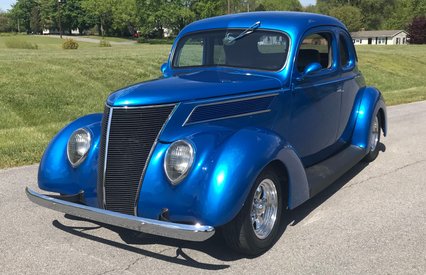 This is a 1937 Ford Cpe, that has been updated to the max. A very professional restoration with top
Ford Coupe
1947 Ford Super Deluxe 2 Dr cpe with flathead V8 engine, three speed manual transmission on the colu
Ford Super Deluxe
1963 1/2 Ford Galaxie 500 two Door hardtop, automatic transmission, power steering, 4 BBL carb, dual
Ford Galaxie 500
Great looking 2002 Ford Thunderbird convertible with two tops, and all power options, stereo system,
Ford Thunderbird
1957 Ford Thunderbird convertible with original 312 cu in V8, Automatic transmission, power steering
Ford Thunderbird
Coming Soon 1955 Ford Thunderbird convertible with 292 cu in V8, Automatic transmission, power stee
Ford Thunderbird
1963 1/2 Ford Galaxie 500 fastback with 390 cu in engine, with fresh rebuild and three two barrel ca
Ford Galaxie 500
Coming Soon. 1959 Ford Galaxie two Door hardtop, with 332 cu in V8, 4 BBL carb, dual exhaust, automa
Ford Galaxie 500
1955 Ford Crown Victoria that has undergone a very thorough pain staking restoration. This is an ori
Ford Crown Victoria
1936 Ford Humpback two door sedan with 350 Chevy V8 engine, and four speed manual transmission (Munc
Ford Humpback
This is a 1940 Ford Four Door Sedan with the original flathead V8 engine, with Offenhauser heads and
Ford Deluxe
This is a 1992 Ford Mustang GT convertible, with 5.0 V8, Auto, PS, PDB, PW, PDL, A/C (cold), Factory
Ford Mustang
This is a 1951 Ford Custom two door sedan with flathead V8 engine and Fordomatic automatic transmiss
Ford Custom
1965 Ford Fairlane. Stock. Completely restored. Original 289 V-8. Automatic with power steering
Ford Fairlane 500
850 MILES SINCE PROFESSIONAL COMPLETE REBUILT. EVERYTHING DONE COMES WITH ALL ACCESSORIES.
Ford Jeep